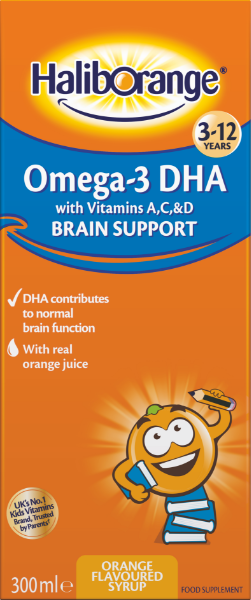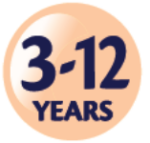 Omega-3 DHA with Vitamin A, C & D
Brain Support Syrup
At Haliborange, we understand that during the first 12 years of a child's life, nutritional requirements are particularly high. That's why we've specially formulated our Omega-3 Orange Syrup for kids 3-12 years to help support health and wellbeing. The orange syrup tastes delicious and delivers essential Omega-3 fatty acids, including DHA, which help maintain normal brain function*.
With real orange juice. No artificial sweeteners.
UK Dept. of Health recommends all children from 6 months to 5 years take supplements in the form of Vitamins A, C & D. (Source: nhs.uk)
*The beneficial effect for the brain is obtained with a daily intake of 250mg DHA.
Nutritional Information
| | | |
| --- | --- | --- |
| | Per 10ml | %NRV** |
| Omega-3 nutrients | 650mg | |
| of which DHA | 305 mg | |
| of which EPA | 195 mg | |
| Vitamin A | 400 µg RE | 50 |
| Vitamin D | 5 µg | 100 |
| Vitamin C | 50 mg | 63 |
**NRV = Nutrient Reference Value

Ingredients
Water, Sucrose, Cod Liver Oil (Fish) 12% , Fish Oil 11% , Glycerol, Orange Juice Concentrate (Sulphites) 8%, Tuna Fish Oil 3% , Vitamin C, Emulsifier: Polyoxyethylene Sorbitan Monostearate (Polysorbate 60), Acidity Regulator: Citric Acid, Flavours: Lemon, Orange, Stabiliser: Xanthan Gum, Preservative: Potassium Sorbate, Vitamin E, Vitamin A Prep (Vitamin A, Sunflower Oil), Vitamin D Prep. (Fractionated Vegetable Oil, Vitamin D).
Recommended daily intake
Children over three years of age, take two 5ml teaspoons daily. Do not exceed the recommended intake.
*The beneficial effect for the brain is obtained with a daily intake of 250mg DHA.
Storage
Keep out of reach of young children.
Check seal is intact before purchase. Store in a cool, dry place, below 25°C. Replace lid securely.
Food supplements are intended to supplement the diet and should not be regarded as a substitute for a varied diet and healthy lifestyle.